Dental Cleanings in Louisville, CO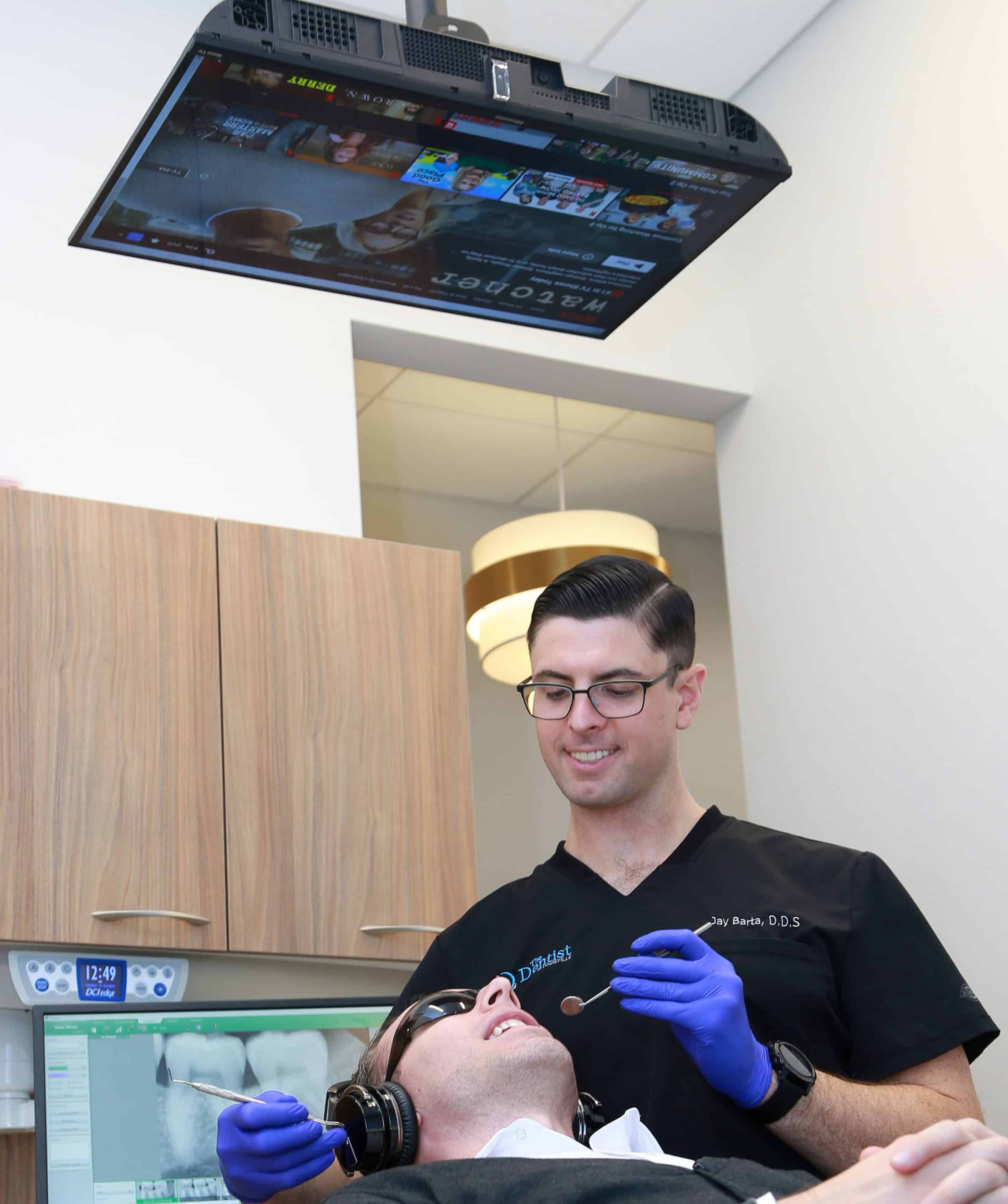 Getting a dental cleaning is one way to better care of your teeth. At The Dentist in Louisville, we offer very thorough and efficient dental cleanings by combining the speed of ultrasonic cleaning with the reliability of hand instruments. Our state-of-the-art equipment gives you the best possible experience with your cleaning. Keep reading to learn more about dental cleanings for people of all ages in Louisville, Colorado.
Why Should You Get a Professional Teeth Cleaning?
Dental cleanings, also known as "dental prophylaxis" or "prophy," are preventive treatments that we recommend you get at least twice a year. Routine cleanings and proper brushing and flossing help prevent gum disease and gingival recession. During the cleaning, we remove plaque build-up from your teeth, which helps prevent cavities. Cleaning can also remove some stains from your teeth for a brighter smile.
Preventing cavities and gum disease is a great way to maintain your dental health as well as your overall health. Our goal for our patients is to achieve stable oral health in which only routine exams, X-rays, and cleanings are needed. 
How Often Should You Get a Dental Cleaning?
Most insurance plans cover two cleanings per year, so we recommend at least taking advantage of the covered services that your plan offers. However, every mouth has different needs, which the insurance coverage may not account for. Some people may be recommended to get three or four cleanings per year. We have many patients who get cleanings more than twice per year. Unfortunately, insurance companies do not often want to help their clients obtain more frequent cleanings without cost. Still, at The Dentist in Louisville, you can be sure that our recommendations are the best option for your dental health.
What Occurs During a Dental Cleaning Appointment?
One of our dentists or dental hygienists will remove the build-up that has accumulated on the teeth. At a certain point, the soft plaque that develops on your teeth will mature into a hard structure called calculus. This calculus will stay on your teeth unless it is removed by a professional via routine cleanings. After we have removed the calculus, we floss and polish your teeth to ensure that we have removed all soft build-up and stains that have accumulated.
What Does a Professional Teeth Cleaning Cost?
The cost for cleanings varies depending on your age and the type of insurance you carry. Without insurance, the range for cleaning is between $90-125. Most insurance plans have 100% coverage for cleanings, exams, and X-rays, so for most people with insurance, there won't be any out-of-pocket cost for these appointments. 
Who Knew Visiting The Dentist Could Be So Enjoyable?
Short answer: our patients. Come see for yourself today.
How Long Does a Teeth Cleaning Take?
A dental cleaning appointment is typically paired with a dental exam.  At least once per year, we like to take dental X-rays as well, regardless of whether we complete X-rays, the appointment is scheduled to take one hour. Your first visit will be about one and a half hours because when we complete a thorough review of your medical history, update your chart to reflect any work that has been previously completed, and take into account treatment plans for future needs.
Don't get confused between dental cleanings and scalings. Scaling and Root Planing, also known as "scaling" or "SRP," is a therapy that bears some resemblance to routine cleaning because we use similar instruments. However, the big difference is that scaling, and root planing treats a disease that has developed, requiring much more significant removal of plaque, calculus, and bacteria. A scaling appointment takes longer time than routine cleaning considerably.
Schedule Your Next Teeth Cleaning in Louisville, CO
The Dentist in Louisville aims to help you become or stay as healthy as possible. When you come in for a dental cleaning, we carry on a conversation that may include congratulations for maintaining healthy gums, notes about areas that could become troublesome and must be observed closely, and information about areas that are unhealthy and need to be treated right away. If you value your health and want to achieve and maintain a healthy mouth and a better smile, then we invite you to schedule your next dental appointment at our office in Louisville, Colorado.